Corvette Pictures
Below are some pictures and information about 1968 corvettes sent to us from owners. If you would like to add your information, please fill out our contact form and we'll respond with where to send pictures. Thanks!



You are looking at a All Numbers Matching 1968 Chevrolet Corvette Coupe Black on Black 427/390 4sp.This vette has been Fully Restored from the ground up to practically original condition. Around 1987 it had a frame off restoration and within the last 2 years it has had a frame on restoration completed for judging and competing. This car has its original matching numbers 427/390 (brute force), matching 4spd trans and rear end which have all been rebuilt to factory specs with 4,700 miles on the drive train. Everything works including headlights, gauges, fiber optics, wipers, etc. This is a No Hit car which was stripped down to the fiberglass and repainted in 5/08 by J&D Corvettes here in California who also did some of the drive train, exhaust, steering and suspension work. This car is fully documented. The frame and bird cage are rust free. The paint is show quality and flawless 10 out of 10 as is the interior from all new weather stripping, seats, carpet down to the seat belts even being restrapped. All body lines and fitment are perfect. It runs, drives, roars and sounds great with lots of power.

Submitted from Robert in Ca.
My beautiful 1968 Corvette has a completely rebuilt big block, 454 engine with less than 1,000 miles on it. It originally came with a 327 engine, but has since been professionally upgraded to a 454 engine. 1968 Corvette has new brakes, tires, shocks, brand new interior including carpet, CD player with speakers, clutch, radiator and exhaust. All wiring has been replaced. Not original color and the paint plate has been removed. From what I can find the original color of the car was 974 - Rally Red. This classic car is the perfect combination of style and power.

Chip G.
1968 Corvette Convertible - L71 427-435HP-4 speed - 411 rear - 99,197 original miles
I have owned this car for thirty nine years.

Meyer Lankstein in NY
1968 Corvette Convertible with matching number 427/390 block and auto transmission! As you can see, the car is a project..but it is one with lots of potential! Suffice to say, I will add new pictures in a year or so when it's been restored!

Greg T.
Corvette
1968 Corvette Pictures
1968 Corvette Statistics
Corvette History
Corvette Links
1968 Corvettes for sale on Ebay
Link to us
Contact us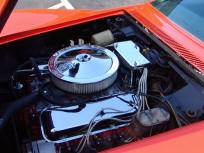 The 1968 Corvette gained several interesting engine options this year under the hood, including the 327 CID V8 L79 rated at 350 bhp, but also the L89 aluminum head option for the L71. The rare L88 engine choice was still available for a good buy at $1,032 (1968 Dollars). At this price only 115 were sold.