Corvette link exchange is below.
We will be adding corvette web sites to this section often. Please check back.
Want to exchange links? Fill out our contact form with your details.


Old Corvette: Your one stop web site for old corvette information from 1953-1967.
---


The 1969 Corvette unleashed.
---

Check out the 1963 Corvette
---


Got a corvette convertible?
Corvette
1968 Corvette Pictures
1968 Corvette Statistics
Corvette History
Corvette Links
1968 Corvettes for sale on Ebay
Link to us
Contact us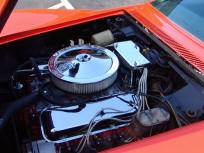 The 1968 Corvette gained several interesting engine options this year under the hood, including the 327 CID V8 L79 rated at 350 bhp, but also the L89 aluminum head option for the L71. The rare L88 engine choice was still available for a good buy at $1,032 (1968 Dollars). At this price only 115 were sold.