Corvette History
The original 1953 Corvette was based upon the EX-122 (year 1952) show car. Ironically, this was one of the rare occasions where a visionary car went into production with almost no styling changes.
Originally, if you can believe it, the Corvette was manufactured as an economical sporty car for younger drivers and not even aimed at adults. The body was made of fiberglass, which was lighter than other cars it competed against in the auto market, which incidentally also proved to be practical. Steel bodied Corvettes were intended for later models.
Most people in the 1950's regarded "Chevy" as a car your mom drove. This obviously was a problem for marketing and brand identity purposes. Introducing a sports car became a challenge as most people immediately gave a cold-shoulder to the Corvette. Although, I find this quote from Road and Track in 1954 right on the money, "The outstanding characteristic of the Corvette is probably its deceptive performance". Although, at 0-60 in 11 seconds, this is actually slower than my 2004 Toyota Corolla!
Sales were so bad at the outset that in 1954 Chevrolet was going to stop manufacturing the Corvette. The overall opinion was that the car looked great, but lacked power under the hood to back up its sporty and aggressive look. Shortly thereafter though, the Ford Thunderbird made its appearance which forced Chevy to continue production at least for competitive reasons.
Sales skyrocketed in 1956. Finally the 1956 Corvette had the power to match its looks along with a numerous esteemed racing victories.

---from www.old-corvette.com
Optional Engine #1: V8, 265 cid, 225 horsepower, two four-barrel carburetors
Optional Engine #2: V8, 265 cid, 240 horsepower @ 5200 rpm, high lift camshaft, two four-barrel carburetors
This is all the history I am going to mention at this point, but you can visit Old Corvette for a lot more information.
Corvette
1968 Corvette Pictures
1968 Corvette Statistics
Corvette History
Corvette Links
1968 Corvettes for sale on Ebay
Link to us
Contact us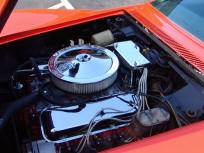 The 1968 Corvette gained several interesting engine options this year under the hood, including the 327 CID V8 L79 rated at 350 bhp, but also the L89 aluminum head option for the L71. The rare L88 engine choice was still available for a good buy at $1,032 (1968 Dollars). At this price only 115 were sold.